Staff and Affiliates
Meet our affiliates and the scientific leaders who contribute to the success of the institute team-projects.
Katz, Brian
acoustics
laboratoire d'Alembert, Sorbonne Université
Lambert, Amaury
Applied Mathematics
Laboratory of Probability, Statistics and Modeling (LPSM)
Laporte, Marion
Evolutionary psychology
Letouzé, Eric
Cancer genomics
Levy, Claire
Climate modelling
Projet NEMO (IPSL, SU, CNRS)
Maday, Yvon
Applied Mathematics
Laboratoire Jacques Louis Lions (LJLL)
Marin, Frédéric
Biomechanics
laboratoire biomécanique et bioingénierie (BMBC, UTC)
Mesnard, Laurent
Nephrologist
Inserm UMR 1155, AP-HP Sorbonne Université
Monmarché, Pierre
Applied Mathematics
Laboratoire J.L. Lions (LJLL)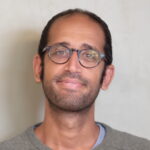 Moussa, Ayman
Applied mathematics
Laboratoire J.L. Lions (LJLL)
Not, Fabrice
Plankton ecology and evolution, photosymbiosis
Station Biologique de Roscoff (SBR)
Nuel, Grégory
Stochastics and Biology
Laboratory of Probability, Statistics and Modeling (LPSM)
Obernosterer, Ingrid
Microbial oceanography, microbial ecology
Laboratoire d'Océanographie Microbienne (LOMIC, Banyuls)
Payan, Johan
Biomechanics Modelling
Pelletier, Eric
Biology, genomics
Genoscope - Centre national de séquençage (Genoscope, Evry)
Penel, Johan
Applied mathematics
Equipe ANGE (SU-CNRS-INRIA)
Perrier, Pascal
Signal processing
GIPSA-lab · Speech & Cognition, Granoble-INP
Perthame, Benoît
Applied mathematics
Laboratoire J.L. Lions (LJLL)
Scientific Advisory Council
We are proud to present to you the Scientific Advisory Council, responsible to supervise the academic contributions of the institute for the Board of Alliance Sorbonne Université. The Council is chaired by Pr. Claude Le Bris, mathematician and scientific leader of the research team MATHERIALS at INRIA-CERMICS (Ecole Nationale des Ponts et Chaussées, Paris).
Abgrall, Rémi
Applied Mathematics
Institut für Mathematik & Computational Science, Universität Zürich
Daydé, Michel
Scientific Computing
Institut de recherche en informatique IRIT, Toulouse
Falissard, Bruno
Biostatistics
Faculté de médecine Paris-Sud, Ecole de Santé Publique
Foa Katz, Richard
Geosciences
Department of Earth Sciences, Oxford University
Grandgirard, Virginie
Scientific Computing
IRFM, Institut de Recherche sur la Fusion Magnétique, CEA, Cadarache
Laskar, Jacques
Dynamical Systems, Scientific Computing
Institut de mécanique céleste et de calcul des éphémérides (IMCCE), Observatoire de Paris
Le Bris, Claude
Applied Mathematics
CERMICS, Ecole Nationale des Ponts Paris Tech, Inria.
Mennucci, Benedetta
Computational Chemistry
Department of Chemistry, University of Pisa, Italy
Patera, Antony
Numerical Analysis, Applied Mathematics
Ford Professor of Engineering and Professor of Mechanical Engineering, MIT
Willaime, François
Computational Material Sciences
Département des Matériaux pour le Nucléaire (DMN), CEA, Gif sur Yvette
PhDs and PostDocs
PhD candidates and postdoctoral researchers are shaping the culture and practice of science in response to scientific challenges. They have been selected for their excellent curricula, their academic strong publication records, and an ability to communicate and interact within a cross-disciplinary research team.